The John E. Profant Foundation For The Arts Award Ceremony was held on Sunday, September 12th, 2004, in the Mural Room of the Santa Barbara County Courthouse. These annual awards are made possible by the community support of Fiesta Finale, and many private donations. Awards are given in the c
ategories of: Music, Dance, Visual Arts, Literature and Theatre. Scroll down to see winners.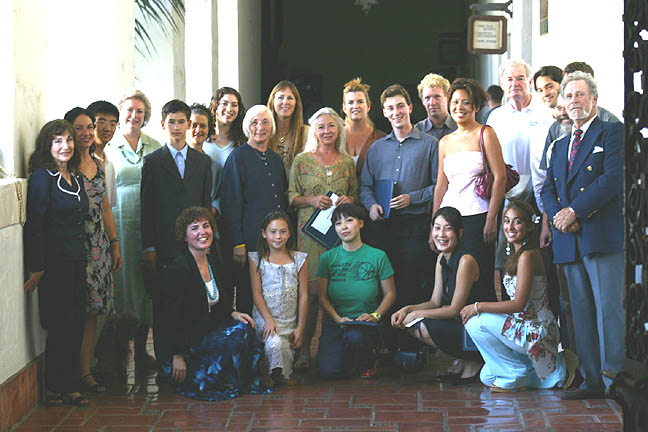 Photo above includes some of the recipients listed above, as well as (first on left standing) President Lyn Profant, Lisa Artaud, 4th from left Board Member Dr. Mary B. Collier, (first on left kneeling) Co-founder Mignonne Profant, (Center) Mayor Marty Blum, (back row 5th from right) MC Larry Crandell.


Mayor Marty Blum joined MC Larry Crandell to congratulate the recipients, and Board Member Dr. Mary B. Collier announced the winners:

"Sometimes life gets in the way of our dreams, and we believe that artists of all ages should be encouraged to pursue their talents. Our scholarships are given to artists of all ages in the categories of: Music, Dance, Visual Art, Literature, and Theater. To maintain objectivity in the selection process, the applications are judged by a committee of ten credentialed professionals located outside the County of Santa Barbara. The decisions are based on basic talent for the art, a desire for a career, and financial need. Following are this years recipients:"

In the Category of Literature

Our first Honorable Mention is translating Chaucer's Canterbury Tales into modern verse - Christopher Lauer

Another Honorable Mention is given to a poet who is greatly influenced by surrounding geography and languages, a poet of Geography as - Nicole Gottuso

Second Place recipient is translating the poetry of four different French poets into English and Hebrew, and will soon be teaching English in the French pubic schools - Margot Lurie

McGuire Family Award - This award is named in appreciation for the help the McGuire family has offered to our organization. Actress Collette was our media liaison this year, and her mother Haley has supported the arts through several of our events. First Place in Literature is given to poet and author of short stories - Ronald Boyer

In the Category of Vocal Music

Second Place described by our judge as a wonderful voice with great potential - Nikolaus Schiffmann

First Place recipient has been with us before, and our judge described her as a real talent with a magnificent voice - Nina Yoshida

The Christopher Toomey Humanitarian Award honors a gentleman who is involved with several local charities and over the years has done an incredible job raising funds to help the underprivileged. Today this award is being given to a very talented artist and teacher who has created a workshop in song writing for the homeless of our community - Kate Wallace

In the Category of Instrumental Music

Honorable Mention - a classical guitarist of great depth and sensitivity - Mr. Samuel Williams III

Native Daughters Award in Music - The Native Daughters of the Golden West, Terra del Oro parlor, is a service organization. Each year they help us transform the Sunken Garden into a theater for the Fiesta Finale Performance. This award is named in their honor, with great appreciation for their assistance.

Honorable Mention - pianist Michael Chung

Adele Wilkie Award in Music - The last time we saw Adele, she was conducting a performance, and changing outfits for each song, from the business suit for New York New York, to the bridal gown and then the Rhinestone Cowboy - she brought joy to so many through the music she shared. Her son Michael and daughter Bonnie have helped us perpetuate the Wilkie legacy and support of the arts.
Second Place - violinist Camille Miller

Scott & Lisa Burns Award in Music - Thanks to past El Presidente Scott Burns and his wife Lisa, the Fiesta Finale Children's Party makes it possible to share traditional arts, crafts, and performances with over 100 children each year. This award is named in great appreciation for their ongoing support. The recipient is a fascinating percussionist with lightning speed and extreme precision
Second Place - Colby Beers

Dorothy Profant Artaud Award in Music honored for her dedication and talent as a pianist, from early days at the Music Academy, as the protégé of Florence Fernald, performing at the Lobero Theater and still playing over an hour a day. Dorothy, John Profant's sister, is represented today by her daughter Lisa, to present the award. And the First Place recipient is - pianist Seungah Seo

In the Category of Dance

Molly Barbey Award in Dance - Molly left us a couple of years ago, on a night like so many others, with her dancing shoes on! Her dazzling performances were memorable, and especially the night of Fiesta Finale 2002 when she led the Gala crowd to the dance floor in the Sunken Garden. Her memory lives on thru this award in dance, and I'm sure she would be delighted by the talents of
Honorable Mention recipient, Flamenco Dancer - Zeke Dascomb

Rosita Demourkas Award in Dance - The second annual Rosita award is dedicated in dance, this year a tribute by her daughter Rose Marie Towle.
This Second Place award is given to Flamenco Dancer and former Spirit of Fiesta - Melissa Ornelas

Paul Michael Toomey Award in Dance - Paul was an excellent dancer, and choreography, greatly missed by his family who have created this award as a way to carry on his legacy. This First Place award is presented to Flamenco Dancer - Pablo Pizano

A stunning artist and previous recipient, Nicole Grand has recently joined the company of the San Francisco Ballet, and we present to her - the Career Achievement Award and we wish her well as she embarks on her career.


In the Category of Visual Art

The Helen Dooley Award - The Kern County Art Supervisor in the schools during the 1940's who later moved to Carmel California and established the Helen Dooley Art Gallery. Primarily a watercolor artist herself, Helen would have been very pleased to meet this recipient of Honorable Mention, watercolor artist - Susan Sallade

Rose Award in Art - named for a woman who didn't start painting until she was 70. We know that sometimes life gets in the way of our dreams, and these awards are designed to help artists of all ages to pursue their talent. This Honorable Mention is given to a specialist in the art of masks - Lindsay Rust

Louis Demourkas Award in Art - Artist Rose Marie Towle has established an award in memory of her loving father Louis. Her love of painting is now shared with others in Santa Barbara, a wonderful way to honor her family legacy. This Honorable Mention is given to a painter whose work was described by our judge as reminiscent of some contemporary Latin American Surrealists - Rita Okusako

The artist receiving Second Place in Visual Arts was described by our judge as a powerful painter with an excelled sense of depth and formal elements. He is Dain Blodorn

Pauline Award in Art - The Pauline award is named for someone who turned down a career in art in order to support her family, but who touched many lives by teaching art and discovered talent amongst the handicapped as they discovered joy in artistic accomplishments. The artist receiving this first place creates beautiful jewelry with rich symbolism - Kathleen Smick

The Larry Crandell Award for Humor in the arts is new this year - What's most important according to Mr. Santa Barbara? A sense of humor. This award is given to encourage and reward those who bring a smile to our lives, whether it is in the performing or visual arts. We asked our judges in all categories to keep an eye out for works that made them smile, and two artists stood out.

Humor can be a wonderful way of opening a door to communicate an idea, and our visual artist Bonnie Beedles has done just that. The first recipient of the Larry Crandell Humor Award is a visual artist specializing in mixed media, Bonnie Beedles.

It is also wonderful when a performer can keep an audience in stitches, and those who have seen him perform can attest to the comedic abilities of our recipient in theater, Geren Piltz.

Zimbalist Award in Theater - This award recognizes a new work of art spanning many categories. The Zimbalist family is known not only for work television and motion pictures, but is world renown in classical music and opera. The recipient has created an exciting new opera entitled "Anthony and Cleopatra" which will be premiered in October at the Faulkner Gallery. Gene Tyburn

Pablo Pizano thanked the organization for making his upcoming trip to Granada, where he will continue to study, a possibility, and several of the recipients echoed the fact that these awards are greatly appreciated, particularly since age is no barrier.

For further information contact:
Marie Profant
(805) 682-8184
mprofant@aol.com
www.profant.org

With deepest gratitude from our recipients:

"You made it possible for me to….
… publish a book of my work
…buy a new instrument
…sing in Europe
… intern as a dancer in New York City
…complete a solo exhibit
…attend the writers conference
…pay the rent while I was injured
…graduate from UCSB
…etc..."