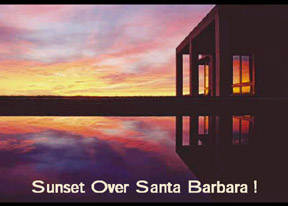 The John E. Profant Foundation for the Arts
invites you to attend an enchanting art show
Saturday, October 18, 2003, 4 p.m. - 7 p.m.

Your $15 donation will raise funds for art scholarships
and is credited toward any purchases.
Experience the art of Paul Leasure in a beautiful contemporary residence perched in
the foothills of Santa Barbara. Enjoy wine and hors d'oeuvres as you view ethereal
perspectives of landscapes, water scenes, tranquil gardens, and children.

A special feature of this show is the highly detailed 20 ft. x 17 ft. trompe l'oeil mural of a vineyard.


The Coastal View, "
Reserve your space. Call (805) 682-8184
or visit http://www.montecitoart.com/sunseteventdoor.html