V.I.P. Pass To Santa Barbara - City of the Arts
Behind-the-Scenes Luxury Tours
Capturing the romance, traditions, and ambiance of Santa Barbara, the Profant Foundation offers year-round tours featuring the artists, performers, chefs, and vintners who make Santa Barbara unique. This is your VIP Pass to the insiders' view. The John E. Profant Foundation For The Arts, a nonprofit organization, with partners Santa Barbara Conference & Visitors Bureau and Film Commission and the Santa Barbara County Arts Commission, welcome you to this celebration of the Santa Barbara lifestyle, a banquet of the finest art, music, dance, food, wine and above all, unique private access to the fascinating people and places that make Santa Barbara so special.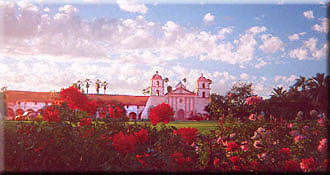 Santa Barbara Misson
Even for those well acquainted with Santa Barbara, this VIP Pass will give a new perspective. Guests will enjoy intimate musical performances and go behind the scenes to view private art collections, tour exquisite gardens, visit the studios of creative artists, enjoy superb accommodations and dine with personal attention from renowned chefs at some of Santa Barbara's acclaimed restaurants.
VIP Pass To Santa Barbara - City Of The Arts includes fireside chats and conversations with artists, gourmet meals, performances by local and international stars, gallery/studio tours, visits to private homes, wine tasting in the beautiful Santa Ynez Valley and free time to explore on your own. Luxury accommodations and some transportation on group outings is included. A portion of the fee is a tax deductible contribution to help provide scholarships for performing, literary, and visual artists, regardless of age. This is a unique opportunity to enjoy cultural travel while supporting the arts. You'll want to return - for an encore. For further information send an email request including the number of travelers in your party, and your phone number to:
JEProfant@aol.com or call (805) 682-8184.