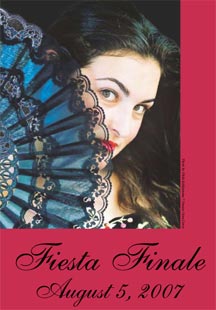 Fiesta Finale Gala

Sunday, August 5, 2007
Santa Barbara County Courthouse
with patron seating for the performance, tickets $200, includes:

5:00 pm: Festive Reception - Cocktails on the balcony, costume contest & silent auction


6:30 pm: Candlelit gourmet dinner and dancing to Latin music


8:00 pm: Dessert & a performance featuring world-class performances of professional dance & music.
Click here to view the Fiesta Finale invitation.
For tickets Arlington Box Office (805) 963-4408, or fill out this reply form or Sponsor form.
Donations to benefit artists of all ages.
Check out the history of this event.
Produced by the John E. Profant Foundation For The Arts, a non-profit 501(c)(3). Your support provides scholarships in art, dance, music, theater, and literature.