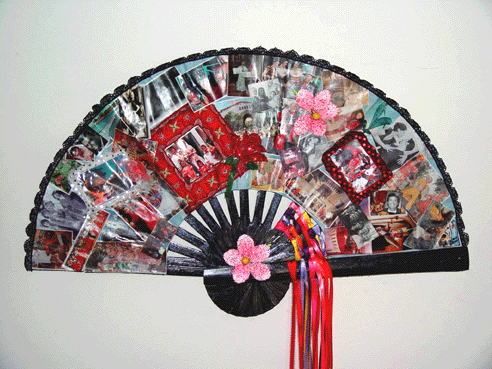 "Heritage" by Elaine Campbell
An eclectic collage containing printed color and B&W photos of Santa Barbara history, Finale, local philanthropists, and SB scenery. (Includes Congresswoman Capps, Mayor Blum, El Presidente, the founding family (from long ago and present), special inserts of Lyn and John Profant and even Judy Garland.
Funky fabric to frame select photos was used. Beaded flowers were attached and bright, colorful ribbons were woven into the fan spokes to create a more festive appearance. Lace trim was highlighted with glitter, as well as the fan spokes. (30 x 34")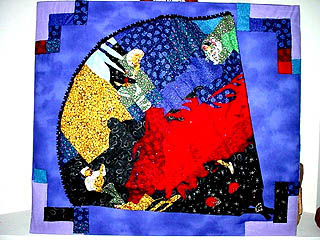 "Spanish Dancer"
by Elaine Campbell
The Watercolor Quilt Art Fan is a free-hand project created as an artistic interpretation - patterned and quilted to resemble the Flamenco dancer "Painting That Comes to Life" at Fiesta Finale. Shades of reds and purples are dramatically predominant. (26 x 30") Watercolor quilt art was actually started in England in the 1970's and has become quite popular.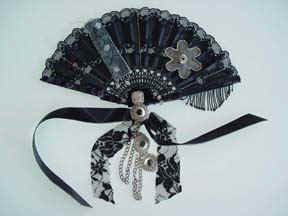 "Very Tosca" by Suzanne Rapley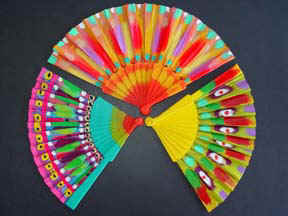 "Dawn, Midday, & Twilight"
by Mitch Robles (trio or individual)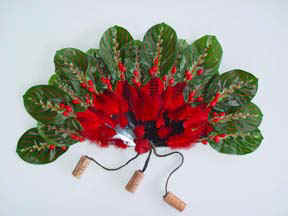 "Tropical Flair" by Sarah Collier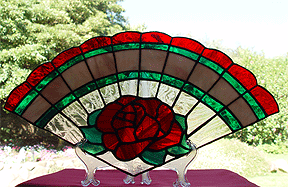 "Fiesta Rose" by Patricia Carlson
Her stained-glass fan is a red, green and white creation blooming from a rose. "The colors remind me of the fiesta colors," she said. Crafted of stained glass - red, pearly, wispy clear and green, with black lead lines. Created as a table or shelf accent piece, it measures 17.5" across and 12" high . It is held up, slightly tilted, on a black wrought iron rack like a platter.