For Immediate Release
September 18, 2005
John E. Profant Foundation For The Arts
Contact: Marie Profant
(805) 705-9179

Click Here for Ceremony Program (large PDF file)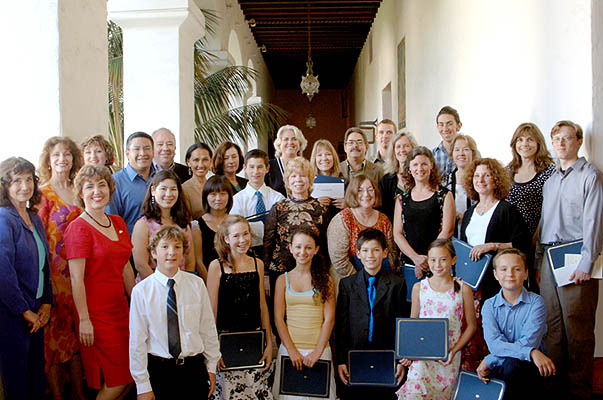 Photos by Priscilla. From Left Founders Lyn, Musette, Mignonne, and Marie Profant, Back County Supervisor Salud Carbajal, Presenter Chris Toomey and recipients - listed below)
Scholarships Awarded for Artists Of All Ages

The John E. Profant Foundation For The Arts recently awarded the annual scholarships in the Mural Room of the Santa Barbara County Courthouse. First District Supervisor Salud Carbajal joined Profant Foundation Steering Committee Leader Chris Toomey in congratulating the recipients and recognizing the sponsors and the volunteer committee.

Chris, who made a significant difference in the fund raising efforts, said,
"Today is the great pay-off for being involved with this wonderful organization ... seeing all the grateful and beaming faces this afternoon is what makes all the effort worthwhile. Every community needs an artistic soul and the Profant Foundation fulfills this objective by bestowing these grants on artists of all ages and talents."

Mignonne Profant explained the mission of the non profit organization; "assisting artists of all ages through scholarships, performances and exhibits". She reported that " 20 individual scholarships - judged by out-of-town experts with a criteria of talent, financial need and desire for career have been awarded. Aside from the 'no age restriction' policy, these are unique scholarships because the funds can be used to purchase instruments, classes, website development, or basic living expenses, if that allows the artist time to pursue their goals. For the 6th year we've given these scholarships, as well as brought professional talent to the public for free, while providing over $22,000 directly to the performing organizations. Additionally, this year we are pleased to add funding for 5 projects that benefit many people in the community i.e ..providing new music to the elementary schools, arts classes, etc."

Marie Profant added, "The organization is also exploring opportunities to market various artistic endeavors, with the help of several new advisors, and preparing for the upcoming Talent Search benefiting Santa Barbara City College students. These new projects allow us to impact a broad range of people, providing exposure for performers and artists, as well as funding. We owe this growth to an experienced group of people who are volunteering their time and talent, as well as over 500 patrons and businesses who supported Fiesta Finale Gala by purchasing tickets, donating to the auction, or naming awards in honor of someone dear to them. We're so grateful for this support and quite pleased to announce that our traditional award levels were increased as a result. We encourage those who would like to help, to call (805) 682-8184. Scholarship applicants, can watch for the next application period February through April 2006, and talented performers can enter the November 5th Talent Search anytime prior to October 29th, both listed on our website www.profant.org."
For details and remarks from the panel of judges, see below
2005 Scholarship Awards - Individuals


Dance
Second Place Annie Spirka
She was accepted at America Ballet Theater Summer intensives in Austin, Texas and is a State Street Ballet student committed to being a professional dancer and choreographer.

First Place The Willard Moore Award Merritt Howard
She has been accepted for a summer intensives at American Ballet Theater, Ballet West and American Repertory's Princeton Ballet School, from which she had to choose. A student of State Street Ballet Young Dancers, she is very accomplished for her age.

First Place The Paul Michael Toomey Award Zeke Dascomb
"I'm always pleased when someone honors a culture, and has a passion for what they are doing. You show great promise and I hope you will continue to study and dance in this genre."

Drama
First Place The Collette McGuire Award Jessica Adcock
"Ms. Adcock had three very well diversified audition monologues that displayed a wide range of physical posturing, vocal variety and emotions... Good work." Jessica is in New York at this time, studying at Juliard.

Literature
Honorable Mention Ellen Frew
"[her poems] are well developed with a solid sense of structure and appreciation for the nuance of language."

Honorable Mention Cynthia Ward
"[the works are] particularly well conceived and executed with focus."

Second Place The Sara Miller McCune Award Willard Thompson
"... cleverly conceived, with a control of dialogue, narrative development and plot."

First Place The Montecito Journal Award Susan Chiavelli
"... effectively develops character and emotion which combined achieve an economical purposefulness."

Music - Inst.
Honorable Mention Rei Luu
"She shows a fine technique and has great promise."

Honorable Mention Filipp Kozachuk
"Plays with great musical feeling"

Honorable Mention The Phillips/Lytel Award Blue Dascomb
"A fine cellist for his age"

First Place The Adele Wilkie Mark Skovorodko
Demonstrating his talents on both piano and trumpet in the audition tape, our judges said he has an "Excellent chance of a good career in music"

First Place The Sean McGuire Award Camile Miller
"plays with the style, technique and assurance of a much older person. She will certainly have a good career as a violinist."

Music - Vocal
Second Place The Terzian Award Evan Hughes
"What a lovely voice. This young man shows tremendous potential."

First Place The Christopher Toomey Award Christina Ikeda
"This voice is really something special. It is rare to hear such a true vocal quality in one so young. This is a marvelous young talent with a gorgeous instrument who shows great care and insight into her singing."

Visual Arts
Special Recognition The Rose Award Cathy Gregory
"Cathy's quilts are a beautiful melding of craft, heart and fine art design - they lend themselves to be viewed as montage imaging in a fine art application."

Second Place The Papayans Family Award Susannah Kelly
"Her use of color ... is wonderful - contrast, application and composition are very mature."

First Place The Pauline Award Eric Kem
"Eric's work is a mature melding of materials - indeed a body of graduate work, and he shows great potential"

The New Endeavors Award Jodi DeMarcos
A talent that was recognized at an early age has laid dormant for too many years, and this award will help her explore it anew.

The Larry Crandell Award in Humor Entera
Equally comfortable with many media, including sculpting, mural work and caricatures, this versatile artist brings joy to all that she creates. Her humor truly stands out in the caricatures.


2005 Scholarship Awards - Projects Benefiting the Community


The Arlene Larsen Award Matthew Scott
His vision is to create community studio where the collaborative process can flourish outside the academic arena, a place for Santa Barbara filmmakers to be creative that does not require enrollment in an institution - a cooperative studio.

The Ceasar Shaar Award Laura Inks
Arts Alive! Creativity Center dedicated to inspiring and educating children and adults across a full spectrum of the arts.

The Wathen Award Colleen McCarthy,
Joyce Johnson and Keith Meyers

A story based on the classic card game Old Maid, updated, with a twist. This project creates a book and accompanying card game to be played by children and their families - learning together.

The Citrix Online Award Lacy David
Chopin's Etude in E major, Opus 10, Number 3 adapted for children with lyrics to introduce them to the magic of the great composer. Goal is to produce CD and Lead sheet for distribution to all elementary schools in Santa Barbara county.

The MidState Bank and Trust Award Lynn Kirst
The forthcoming book, "Our Lady of Mount Carmel - Its Art, Architecture and Place in Santa Barbara History"

Previous Year Winners